Contact
Ararat Gallery TAMA (Textile Art Museum Australia)
82 Vincent Street, Ararat, 3377, Victoria, Australia
Mailing Address
PO Box 246, Ararat, 3377, Victoria, Australia
Newsletter
We'd love to say in touch with you to share all the exciting things coming up at Ararat Gallery TAMA.
Gallery Membership
The gallery is a focal point for art, culture and ideas in Ararat.  Gallery members receive first notice of upcoming events, such as artist's talks, special events or creative workshops. There are loads of other benefits too.  Give us a call or drop in to find out more.
Volunteers
We can't do it without you!  Volunteers are the lifeblood of the gallery.  They are our champions and make a massive contribution to everything we do.  If you have some free time, want to meet new friends and deepen your engagement with art, we'd love to hear from you.
Donations
Without donors we wouldn't be where we are today. The Ararat Gallery TAMA's renowned collection is indebted to people who gave money, donated works and tirelessly fundraised.
Targeted giving can support special acquisitions, the development of art prizes, publications, education programmes or artwork conservation.
The gallery is registered with the Australian Tax Office as a Deductible Gift Recipient and can provide tax deductible receipts for donations. If you would like to discuss opportunities to support the gallery through donations, please contact the gallery director.
Cultural Gifts Program
The Australian Government's Cultural Gifts Program encourages gifts of significant cultural items to public art galleries by offering donors a tax deduction for the market value of their gifts, under Subdivision 30-A of the Income Tax Assessment Act 1997 (the Act). The gallery director assists guiding donors through this process.
Bequests
Through your Will you may wish to provide a bequest to support the collection and activities of the Ararat Regional Art Gallery. Your solicitor or financial advisor can provide advice on how to establish a bequest in your Will that will support Ararat Regional Art Gallery.
To include the Ararat Regional Art Gallery in your Will the following suggested wording may be used:
Gift of cash or a proportion of your estate:
'I give (proportion of estate or dollar amount or the residue of my estate) to Ararat Regional Art Gallery, Victoria, for the purpose of acquiring works of art.'
Gift of art:
'I give my (clearly describe the work of art) to the Ararat Regional Art Gallery, Victoria for its use at its absolute discretion.'
To ensure your bequest can best support the long term advancement of the Gallery it is best to discuss your thoughts with the Gallery Director.
Established in 1968, Ararat Gallery TAMA has a unique place amongst Australia's public galleries, through its longstanding commitment to supporting and promoting textile and fibre art – a curatorial and collection focus that began in the early 1970s. The gallery has continuously collected textile and fibre based art since the early 1970s. Today the collection is arguably the most significant of its kind in Australia.
Ararat's textile and fibre art specialisation needs to be considered in relation to the craft movement at the time. In 1972 the Australian Government established the Craft Inquiry, which led to the establishment of the Craft Board of the Australia Council for the Arts in 1973. Federal and State government support followed, providing a funding injection and a validation of craft and, by association, Ararat's decision to align itself with the fibre art movement.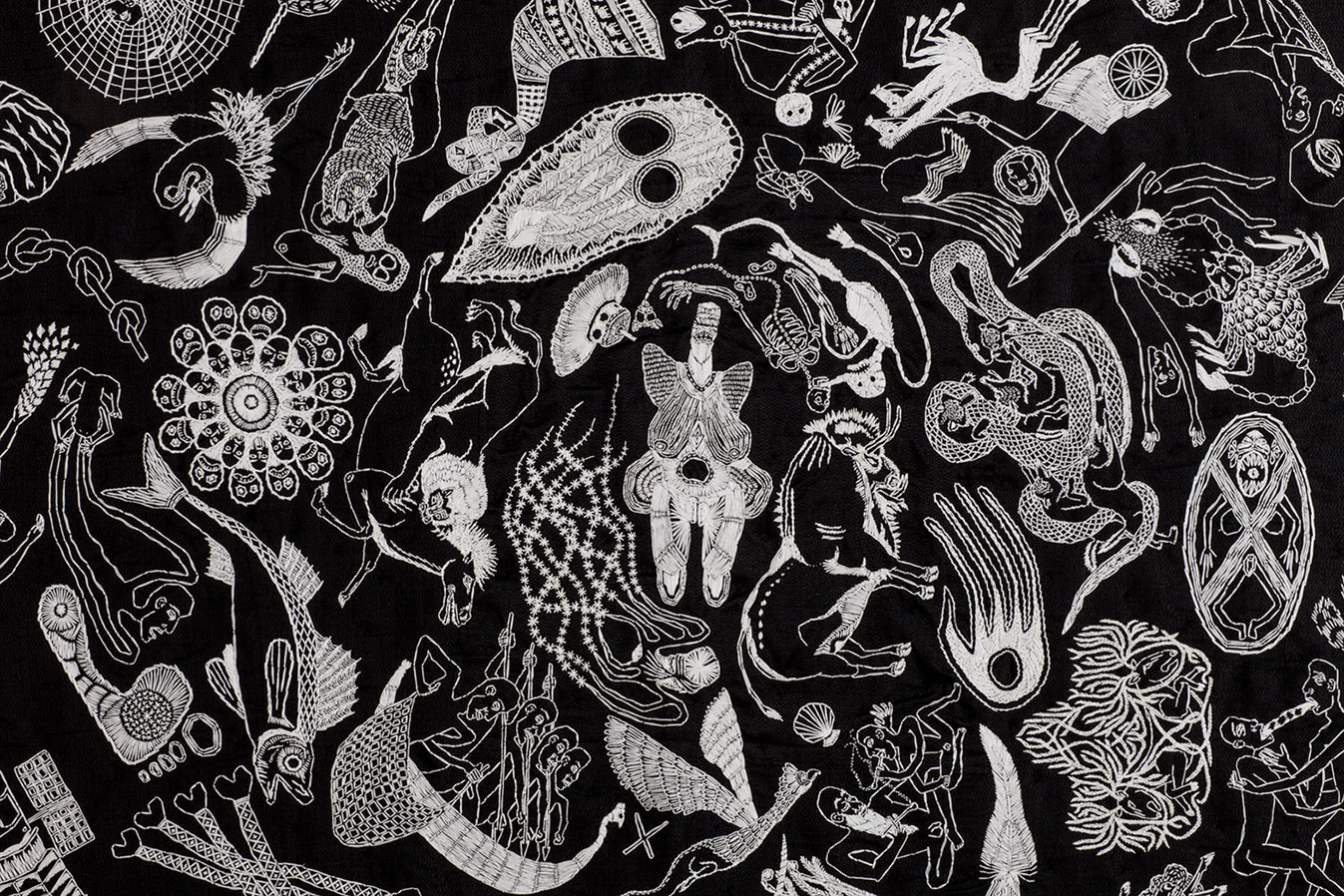 Lucas GROGAN
Born 1984, Cooma, NSW, Australia
The Universe Quilt 2013 (detail)
embroidery; cotton thread on black laminated cotton
200 x 175 cm
Purchased with the assistance of the Robert Salzer Foundation and Ararat Rural City Council annual allocation, 2013
Ararat Gallery TAMA Collection
Photo: Andrew Curtis
Formative textile fibre artist who rose to prominence during the craft movement of the 1970s, such as John Corbett, Ewa Pachuka, Jutta Fedderson, Mona Hessing and Vivienne Pengilley, are represented in the collection with important foundational acquisitions. In 1976 the gallery acquired Columbian artist Olga de Amaral's 'Coraza en dos Colores' (1973). This acquisition of immense scale and complexity boldly asserted the gallery's intention to establish a collection of international standing. It remains one of the gallery's treasures and is one of the most significant examples of the fibre art in an Australian public collection.
The collection is an extraordinary repository that tracks the development of textile and fibre based practice from the early 1970s through to today.
The dynamic growth in textile practice from the 1970s into the 1990s is reflected in a wide range of acquisitions including quilts, tapestries, baskets and embroideries, as well as experimental mixed media works that reflect the enthusiasm and optimism amongst textile artists during this period.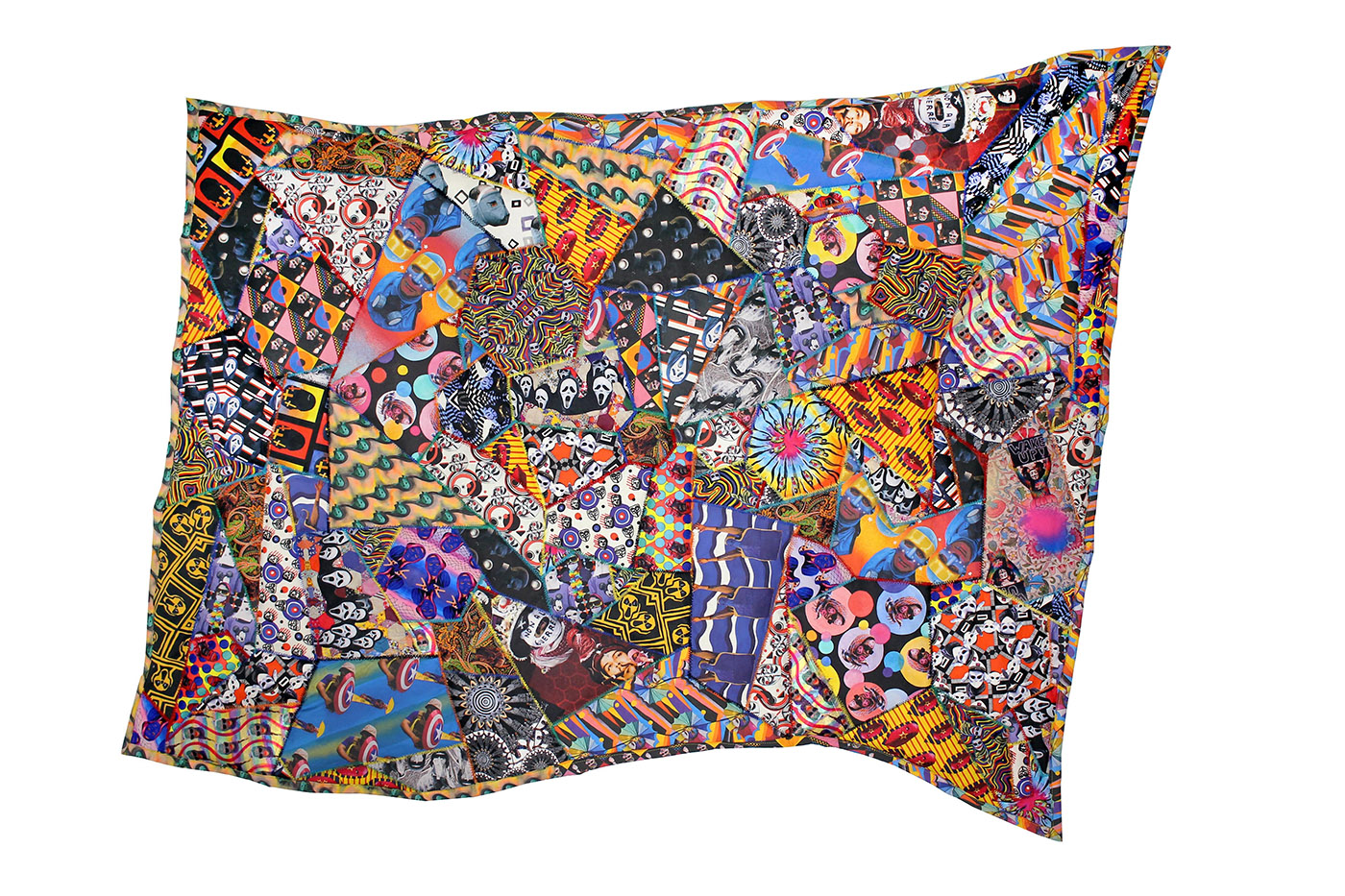 Jemima WYMAN
Born 1977 Brisbane, Australia
Domestic Rage 2017
sewn custom printed textiles
143 x 199cm
Purchased with the assistance of the Robert Salzer Foundation and Ararat Rural City Council annual allocation, 2017
Ararat Gallery TAMA Collection
Photo: Jemima Wyman
Visual arts practice is increasingly challenging the demarcation because artistic disciplines and the hierarchy of materials. Textile-based art has long been a broad field of endeavour transcending traditional craft media, but it is increasingly intersecting with painting, sculpture, performance and multi-media in unexpected ways. The gallery's collection contains a diverse representation of such boundary pushing, textile-based works by artists including Kate Just, Kathy Temin, Jenny Watson, Sera Waters, Jemima Wyman and Paul Yore. The gallery is currently focussed on building its sub-collection of fibre-based art by First Nations artists from South Eastern Australia. Artists represented include Lorraine Connelly-Northey, Julie Gough, Yvonne Koolmatrie, Georgia MacGuire and Letty Nicholls.
From November 2018 a changing exhibition highlighting the permanent collection will be presented for the first time in The Paterson Family Gallery.
The gallery also holds sub-collections including the Lady Barbara Grimwade Costume Collection, the Art of the Japanese Package and the Frances Burke Collection. These sub-collections are not the focus of the permanent collection display on an ongoing basis.
Ararat Gallery was established at a public meeting called by the Mayor of the City of Ararat, Councillor G Marx in March, 1968. At this meeting a small executive and a committee of six were elected. Ararat Shire Council made available the Old Municipal Offices in the Ararat Town Hall for use as a gallery. An initial establishment grant of $1000 was provided by the Victorian Government, which the gallery received annually until 1974, when an increased grant of $5700 was received. In 1971, a second room, the Old Council Chambers, was made available, thus doubling the gallery's exhibition space.
Pamela Gullifer AM was appointed the gallery's first full time director in 1973. In 1974 the gallery became the sixteenth member of the Regional Galleries Association of Victoria. The gallery's textile and fibre art specialisation was established in the mid-1970s under Mrs Gullifer's direction Mrs Gullifer honed in on Australia's growing craft movement, which provided rich opportunities for a new gallery seeking to establish a collection on a small budget. Purchases of glass and ceramics followed; however, the region's historical association with fine merino wool production ultimately secured the gallery's fibre art specialisation.
In 1978 Council received a $1M grant from the Victorian Government to restore and rebrand the Ararat Town Hall as the Ararat Arts Activity Centre. This project involved the restoration of the building's exterior and a modified interior incorporating the gallery, performing arts centre and a new arts and crafts workshop. Through this project the gallery expanded and became a co-tenant in the building with the newly established Ararat Performing Arts Centre. The Ararat Arts Activity Centre was opened on Thursday 26 April 1979 with a welcome by Ararat Mayor Cr W C Henning, opening remarks by the Hon T Austin, Minister of Public Works, and closing remarks by Eric Westbrook, Director, Ministry for the Arts. Gunn Hayball Architects received the Victorian Architecture Medal in 1980 for their work on the project.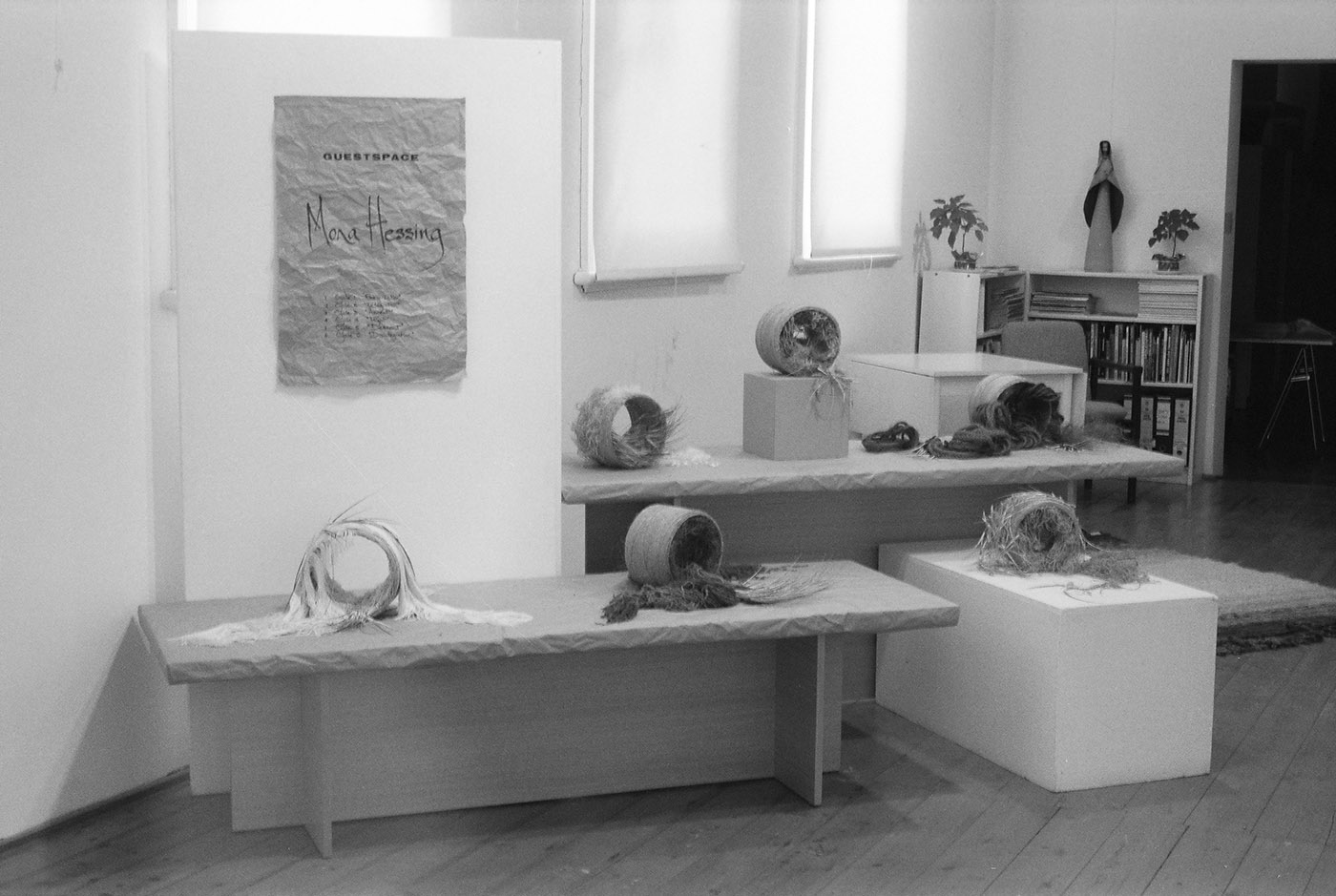 Mona Hessing exhibition, Ararat Gallery 1983
In the 1980s the gallery expanded its textile art focus, curating four biennial exhibitions which toured to other public galleries. The first four biennials (1981, 1983, 1985, 1987) were open only to textile miniatures, establishing in Australia a competition model that was well established in Europe. The miniature biennials attracted artists from Australia and overseas, resulting in many acquisitions. The last biennial in 1989 moved away from miniatures and focussing instead on critically engaged fibre art practice.
The 1980s was a period of prolific collecting and many of Australia's leading textile and fibre artists from this decade are represented in the permanent collection. This was a time of optimism in the craft community with increased professionalism, experimentation and boundless creativity, fuelled by newly established tertiary courses and networks.
By comparison, the 1990s was a time when contemporary artists began experimenting more broadly with materials and identifying less with movements, mediums and definitions. Career pathways in the craft become less fruitful and notions of a textile identity within the craft movement lost currency. The artworks collected during this period reflect the evolving status of craft and the critical demands on artists working with textiles and fibre materials and techniques to strengthen the conceptual underpinning of their work.
Since the 1990s the gallery's permanent collection has continued to grow with acquisitions that reflect the expanding field of textile practice in Australian visual culture. Today the collection is a major repository of textile art (excluding fashion) that is unsurpassed by any other Australian collecting institution.
Ararat Gallery Inc. was liquidated in 2005, and the gallery became a facility of Ararat Rural City Council. As a Council facility the gallery has consolidated its textile art specialisation through a range of programming initiatives and a reinvigoration of the permanent collection. Recent acquisitions reveal the rich diversity of current fibre-focussed contemporary practice and foreshadow opportunities for the collection's future growth and development.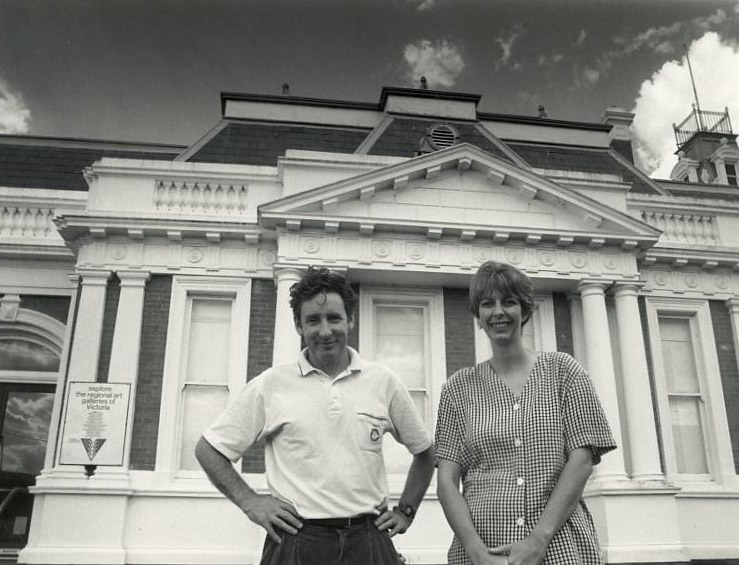 Graeme Bird, Ararat Gallery Director 1990-1998 and Elizabeth Lindsay, Curatorial Assistant 1989-2005
The gallery has an almost singular dedication to curating exhibitions which explore Australia's recent historical fibre art history. Notable exhibitions include 'About Time: Australian Studio Tapestry 1975-2005' (touring to five galleries, 2010-2012)), 'Douglas Fuchs – Floating Forest: 30th anniversary exhibition' (2012), Kate Just: The Knitted Works' (2013), 'Making Time: The Art of John Corbett 1974-2013 (2013), and 'Slipstitch', curated by Dr Belinda von Mengerson and presented in partnership with NETS Victoria (touring to five galleries, 2015-2017).
In August 2018 Ararat Gallery celebrated its 50th year. This milestone coincided with the completion of the ambitious Ararat Arts Precinct Redevelopment Project. This $7.735 million project is funded by all tiers of government. The Victorian Government committed $5.2m to support the project, and the Australian Government has committed $945,000 through the National Stronger Regions program. A community campaign raised $232,000 through donations and fundraising, including significant donations from the Peggy and Leslie Cranbourne Foundation and from Rowly and Judy Paterson, local residents and owners of the ACE Radio Network.
Designed by architectural firm Williams Boag, the project has seen the Ararat Gallery's existing spaces in the Ararat Town Hall enhanced and expanded. In addition, a new prominent entry and foyer will integrate a arts workshop space and improve its overall amenities, including through the addition of a café. The gallery will double its exhibition and collection spaces with two new collection areas and a purpose-built gallery devoted to promoting excellence and innovation in textile art practice. For the first time, the gallery's extraordinary textile art collection will have a dedicated exhibition space with a changing display that tracks the story of textile art practice in Australia.
In August 2018, to mark the opening of the refurbished and expanded Ararat Gallery, and in recognition of significant textile art history, collection and contemporary programming, a new brand was launched and the gallery was renamed Ararat Gallery TAMA (Textile Art Museum Australia). A curatorium of leading artists, curators and academics who are engaged with textile art was established to support and guide this new direction and support the gallery's director and staff in establishing Ararat Gallery TAMA as a pre-eminent textile art destination.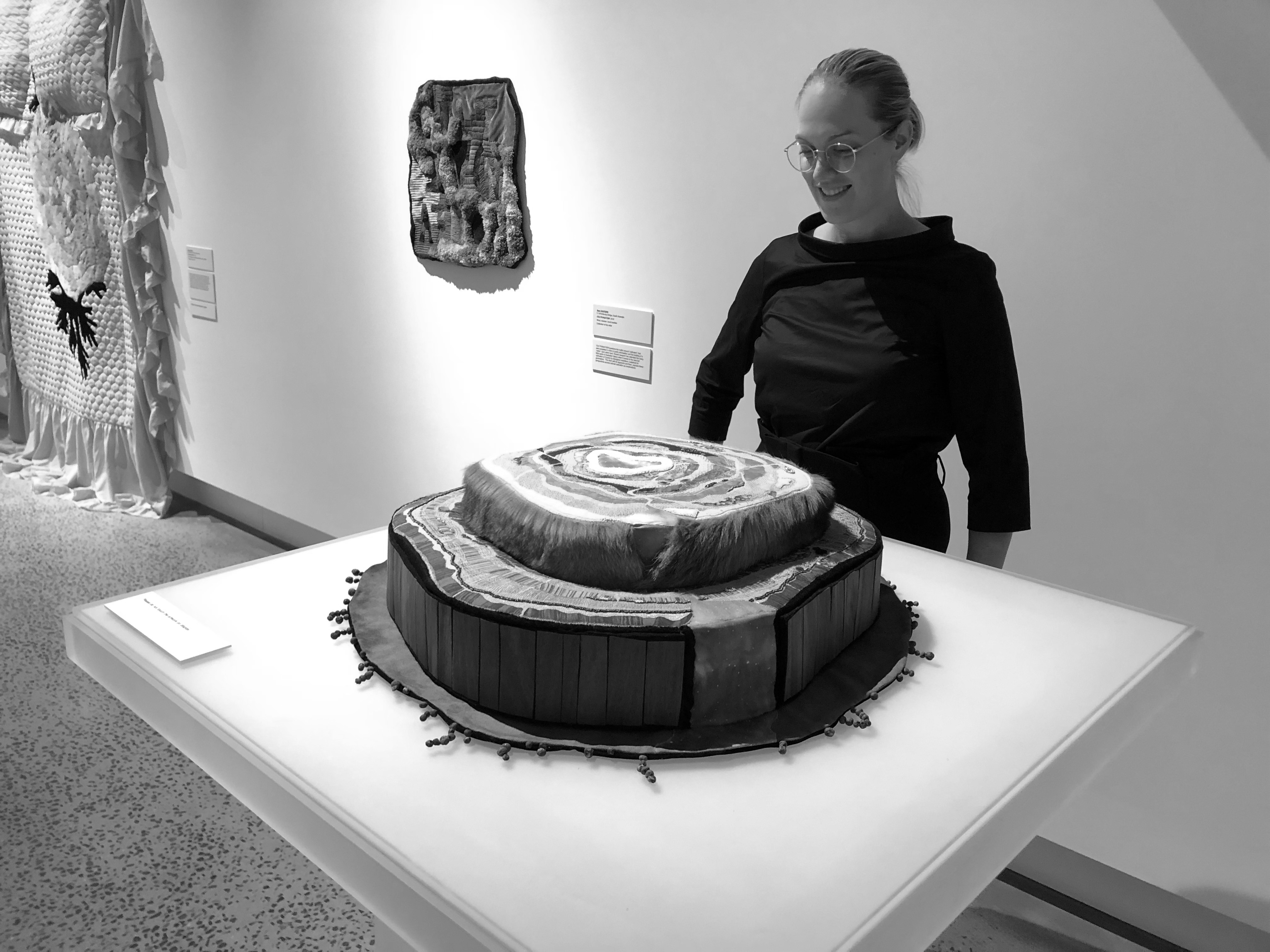 Ararat Gallery TAMA Visual Arts Coordinator Kate Davis.
Gallery Directors
2007 – 2018 Anthony Camm
2003 –              Liz Oley
2000 – 2003 Penelope Hillam
1998 – 2000 Sarah Schmidt
1990 – 1998 Graeme Bird
1988 – 1990 David Salter
1985 – 1987 David Salter
1979 – 1985 Pamela Luhrs
1987 – 1988 Jeffrey Taylor
1977 – 1979 Joe Devilee
1973 – 1977 Pamela Gullifer AM
Ararat Gallery Inc. Presidents
2004-2003, Mr Don Calvert OAM
2000-2003, Mr Kevin Free
1999 Ms Loris Button
1998-1999, Mr R Thompson
1998 5/12, Mrs C Smith
1998- 1995, Mr Jarno Coone
1993-1995, Mr Robert Thompson
1988- 1993, Ms J Wilson
1987- 1988, Dr M Rankin
1984-1987 Dr R de Crespigny
1982-1984 Mr R Francis
1980-1982 Cr. J Boyles
1977-1980 Mr I Kirkham
1977, Dr J Wellington
1976, Mr Rudi Nyhof
1975-1976, Mr Gary Lewis
1974-1975, Mr Leo King
1971-1974, Dr P de Crespigney
1971, Mr J Pitt
1968-1970 Mr Gary Lewis
Established in 1968 and operating as a textile art-focussed regional art gallery since the early 1970s, Ararat Gallery TAMA is a respected cultural institution in Western Victoria.
The gallery celebrated its 50th anniversary in 2018 with the completion of $7.4 million redevelopment of the Ararat Arts Precinct that has doubled its exhibition and collection spaces and established a prominent and vibrant visitor-focussed arts hub on the site of the historic Ararat Town Hall
We are grateful to the following sponsors and partners for their support.
Government Partners - Program
Government Partners - Ararat Arts Precinct Redevelopment
Philanthropic Partners - Ararat Arts Precinct Redevelopment
Peggy and Leslie Cranbourne Foundation
Rowly and Judy Paterson
Principal Media Partners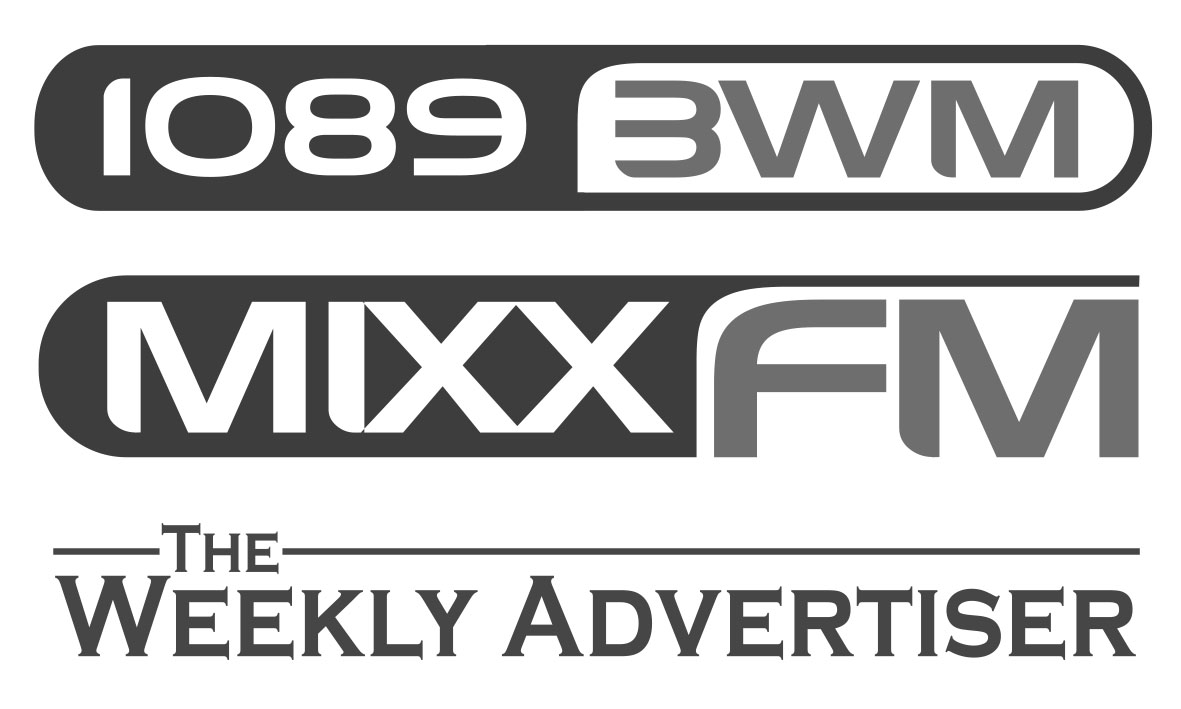 Wine Partner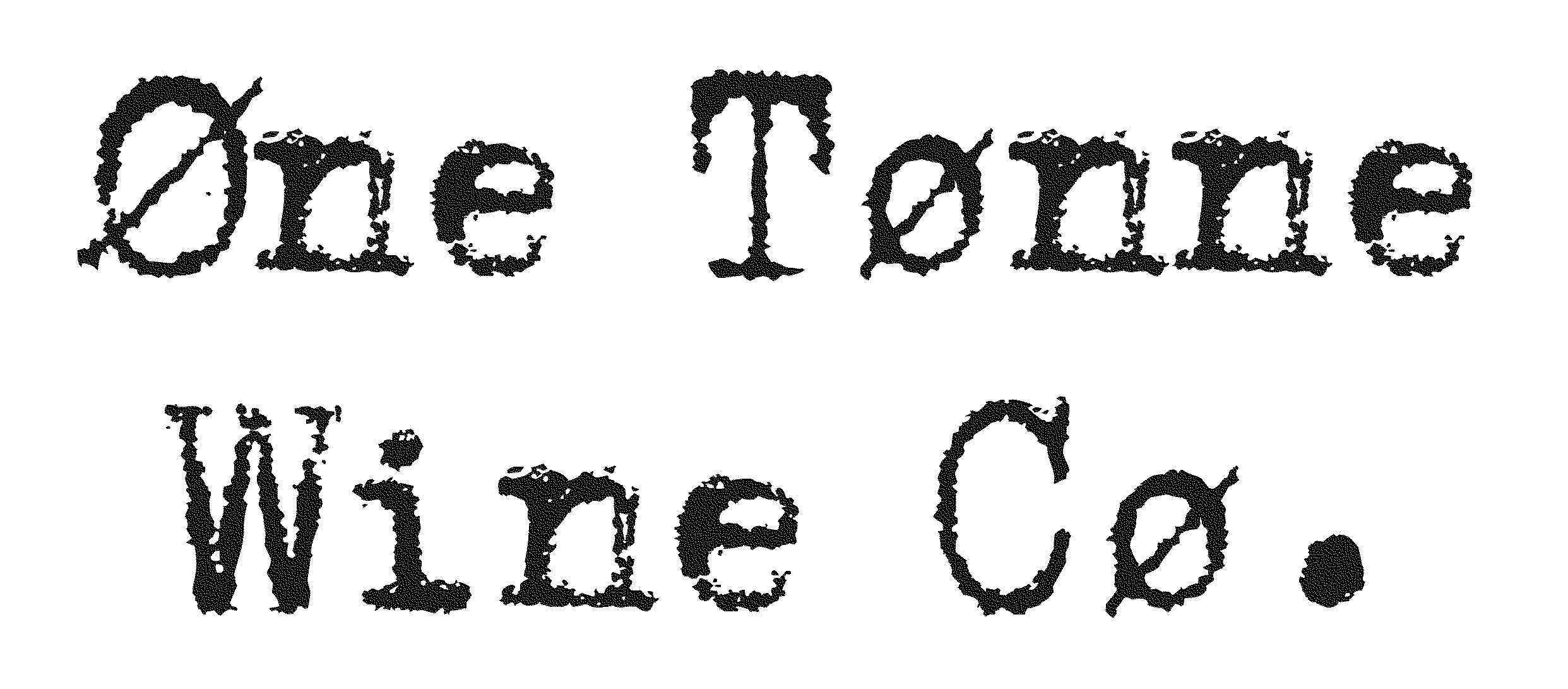 Without the support of our partners we would not be able to sustain our program and operation. To find out more about partnership opportunities and benefits, please contact Jacqueline Grenfell. Acting Manager, Gallery TAMA on +61 03 5355 0220 or gallery@ararat.vic.gov.au.